Rabbit at the Sliding Door: Chloe's Story (Recipient of 14 Book Awards!)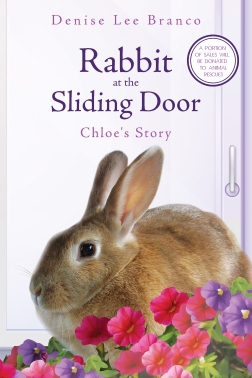 When an unexpected visitor arrives at Denise's sliding door one summer morning, she had no idea her life was about to change forever. She found a Palomino in her backyard—not the kind she ever thought she'd see in suburbia or that she needed—with a fluffy white tail and a twitchy pink nose.

For her own safety, this abandoned rabbit could no longer be free range. Denise and Chloe's journey takes them both through harrowing situations to a reunion with the promise of protection, devotion, and serenity. Rabbit at the Sliding Door is the touching story of how companionship and love come in all forms and lessons can be learned from every life. What would you do if a rabbit showed up at your door?

"Denise Lee Branco helps us to see how important animals are to our lives. She reminds us that we have the responsibility of being good stewards of these special friends. Branco said, 'I needed Chloe, and she needed me.' God meets us in our moments of need with sweet opportunities that take us on a journey of healing and delight. This personal story of love, loss, and hope will be enjoyed by readers of all ages and remind us of our responsibility of taking care of God's creation."
- Tim Riordan, Pastor of SonRise Baptist Church in Newnan, GA

"This heartwarming tale about when a compassionate person meets an animal in need. Everyone would glean something from this story about life, love, and the importance of the human-animal bond."
- Alex Rensing, DVM

RABBIT AT THE SLIDING DOOR: CHLOE'S STORY is the recipient of 12 BOOK AWARDS!
1) BRONZE MEDAL in the 2022 Living Now Book Awards (Gift/Keepsake/Coffee Table category)
2) BRONZE MEDAL in the 2022 Moonbeam Children's Book Awards (Animals/Pets Non-Fiction category)
3) SECOND PLACE in the 2022 Royal Dragonfly Book Awards (Coffee Table & Gift Book category)
4) WINNER in the 2022 Best Book Awards (Animals/Pets Narrative Nonfiction category) & FINALIST (Novelty & Gift category)
5) FINALIST in the 2022 International Book Awards (Animals/Pets Narrative Nonfiction & Novelty/Gift Book categories)
6) DISTINGUISHED FAVORITE in the 2022 NYC Big Book Awards (Animals/Pets Nonfiction category)
7) HONORABLE MENTION in the 2022 Purple Dragonfly Book Awards (Holiday & Animals/Pets categories)
8) FINALIST in the 2023 Feathered Quill Book Awards (Animals-Adults category)
9) DISTINGUISHED FAVORITE in the 2023 Independent Press Award (Animals/Pets category)
10) WINNER in the 2023 Book Excellence Awards (Gift Book category)
11) FIRST PLACE in the 2023 Christian Indie Book Awards (Gift Book category)
12) FINALIST in the 2023 Next Generation Indie Book Awards (Gift Book category)
13) WINNER in the 2023 National Indie Excellence Book Awards (Gift Book category) and FINALIST in the Animals/Pets category
14) BRONZE in the 2023 Northern California Publishers & Authors (NCPA) Book Awards (Memoir category)
$22.99 USD | 978-0-9845888-2-4